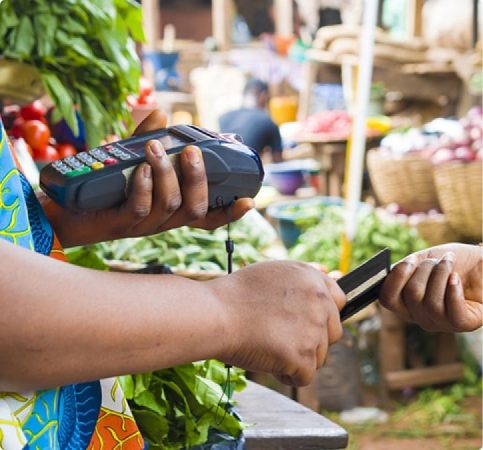 Fidelity POS terminal, also known as Point of Sales terminal is an electronic device that aids financial activities (Payment of Goods and Services), through the use of card and USSD on the terminal.

You can accept payments from customers easily and safely. Our POS terminals are perfect for whether you need a simple portable mobile reader, or a counter terminal.
Accepts all local and international payments from Visa, MasterCard and verve card
Receive daily settlement alert to aid your reconciliation
Get access to our merchant portal (Olympos) to monitor your terminals and transactions real-time
Visit any Fidelity Bank branch
Fill out a POS request and agreement form
Use the Fidelity POS portal and the daily email alert to reconcile your transactions
Settlement is done into your bank account in bulk by terminal ID
Visit https://olympos.fidelitybank.ng to sign up to the portal
Monitor All your POS Transactions Right From Your Phone.

The POS Merchant app from Fidelity Bank enables you to monitor your POS and mPOS transactions on the go. You have access to your transactions as they happen. Manage your terminals at different outlets or teller tills and totally be in control of your business.
View your POS transactions as they happen in real-time
Know the value of transactions your POS has acquired at a glance
View details of the amount settled to your merchant account
Get details of your account officers for any banking support
Download the Fidelity Bank Merchant app and start authentication with your mobile number. This must be the number tied to your account with the Bank and on which you receive SMS alerts when you do transactions.
We will send an activation code to this number. When you receive the activation code, follow the onscreen steps to register. Once completed, you are all set to begin.
For more information please contact our POS team on POSSupport@fidelitybankng.azurewebsites.net